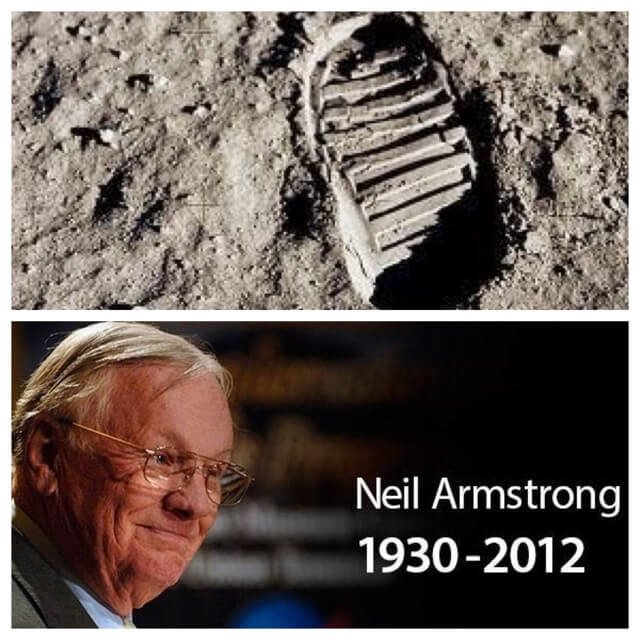 ?That?s one small step for a man, one giant leap for Mankind.?
Neil Armstrong has finished his current inning on Earth for the time being; he is and will remain a legend for generations to come. How did the small boy from Wapakoneta, Ohio make it big in life? Neil Armstrong was born on August 5, 1930, in Wapakoneta, Ohio and was?the first of three children of Stephen and Viola Armstrong. He married his college sweetheart, Janet Shearon, in 1956. Janet Shearon and Neil Armstrong got divorced in 1994. Neil Armstrong married Carol Knight after his divorce.
Neil Armstrong Did What He Loved & Loved What He Did
Neil Armstrong loved everything about aviation from childhood. He began making model planes as child. So much was his love for aviation that he picked up odd jobs at the local airport. The money from these odd jobs paid for his flying lessons. Neil Armstrong obtained his pilot's license at the young age of 15; this was even before he had a car license.
Take Control of Your Dream – It Is In Your Hands
As a kid at 15 he loved aviation, and knew it would be difficult for his parents to pay for the flying lessons. He took up odd jobs to save money for the flying lessons. He dreamed big and worked hard to make his dream come true. Neil Armstrong by the age of 17 had flown two long-distance solo flights and had done his paperwork to start classes at Purdue to pursue a program in aeronautical engineering.
I think we're going to the moon because it's in the nature of the human being to face challenges. It's by the nature of his deep inner soul… we're required to do these things just as salmon swim upstream ? Neil Armstrong.
Things Will Go Wrong; Don?t Panic – Do Your Best
Neil Armstrong was known for not panicking when things go wrong. Neil Armstrong took two trips into space; his first journey was in 1966 as the commander of Gemini 8 mission, which was about to end in a disaster. Neil Armstrong kept his cool and brought the spacecraft home safe after a thruster rocket malfunctioned and caused it to spin out of control.
During the last stages of Apollo 11 the team realized that the Eagle lunar module's auto-pilot was preparing to land the crew on the slope of a huge moon crater. Neil Armstrong said ?The computer showed us where it intended to land, and it was a very bad location, on the side of a large crater about 100-150m in diameter with very steep slopes covered with very large boulders — not a good place to land at all." Neil Armstrong took charge and overrode the automatic pilot to avoid landing in the big rocky crater. The landing was full of danger; the lander had only about 30 seconds of fuel left when Armstrong put it down on Moon. After landing he calmly radioed back to Mission Control on Earth, "Houston, Tranquility Base here. The Eagle has landed."
Must Read:?What are you doing to avoid being fired from your job?
You've got to expect some of these things are going to go wrong, and we always need to prepare ourselves for handling the unexpected. And you just hope those unexpected things aren't something that you can't cope with. – Neil Armstrong
Throw Fear Out of Window
As a U.S. Navy pilot, Armstrong flew 78 combat missions during the Korean War. In his stint at NASA he tested many high-speed aircraft, including the X-15, which could reach a top speed of 4,000 miles per hour. He gave his best and?won three medals in Korean War. Armstrong had several arial accidents and some were a close shave. The accidents did not make him fearful of flying; it just emboldened him. He kept on dreaming bigger and bigger.
There can be no great accomplishment without risk – Neil Armstrong
Don?t Let Success Get to Your Head
Space Foundation survey in 2011 ranked Neil Armstrong as the #1 most popular space hero. Throughout the world there are places named in his honor. Neil Armstrong was once asked on how he felt knowing his footprints would likely stay on the moon's surface for thousands of years. "I kind of hope that somebody goes up there one of these days and cleans them up," he said.
While many people are quick to cash in on their 15 minutes of fame, Armstrong avoided the public spotlight and chose to lead a quiet, private life with his wife, children and grandchildren. He remained humble throughout his life and said he was just doing his job. He would even feel frustrated with the publicity he would attract.
For those who may ask what they can do to honor Neil, we have a simple request. Honor his example of service, accomplishment and modesty, and the next time you walk outside on a clear night and see the moon smiling down at you, think of Neil Armstrong and give him a wink." ? Statement released by Neil?s family after his death.
Thanks
Jappreet Sethi
The author uses life stories to demystify the day -to?-day Human Resources Challenges we face at work. His HR Blog ? Human Resources Blog endeavours to simplify the HR jargon.