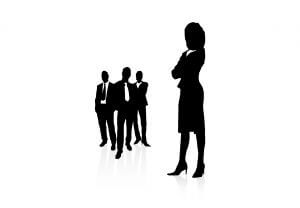 "Careers are a jungle gym, not a ladder," writes Sheryl Sandberg in her new book, "Lean In" which prompts women to take up leadership roles in corporate organizations.
It is an acknowledged fact that women have to face unique challenges and struggles while developing a style of leadership at the workplace. For women who aspire to don leadership roles, being too assertive and masculine or excessively feminine are seen as disadvantageous to their images.
Lack or female role models to emulate and gender bias are other problems that women have to contend with. Leaving aside the hot debates and dissection of the intensely personal issues of women in the workplace, here are a few leadership tips for those women who want to hold the most powerful reins in their organizations.
Learn New Leadership Styles
Lack of female role models in corporate settings leave aspiring women leaders with few leaders to observe and learn from during their careers. Women can watch male leaders perform; however, they cannot ably illustrate how to manage or navigate female stereotypes.
In such a case, women who want to don the leadership mantle can join communities or other professional organizations to identify more role models. They also get a chance to learn and develop new leadership styles at these settings.
Make Things Happen
"Done is better than perfect," is Sheryl Sandberg's crucial bit of advice to the female leader-to-be. She has to clearly understand the role that she is playing, know what she is good at, and identify what she enjoys doing in order to successfully complete the job at hand. No outcome is possible until a job is successfully completed.
It is possible that young women sometimes have to do jobs that are not connected to their innate strengths. However, it is important that the woman leader is aware of these shifts to ensure success in whatever role she is currently playing.
Work Hard and Prepare Well
Failing to prepare is preparing to fail. Hard work helps a leader to gain the resilience, become self-reliant, and accept new opportunities together with the risks that accompany them.
In this context, it is important to identify specific situations and conditions that affect energy levels and space them appropriately throughout the work day to achieve maximum efficiency. Adequate preparation is the foundation of success.
Build your network
Listening to many people and their ideas provides a better perspective and helps to put things into context. Talking to trusted colleagues, senior citizens, professors and officers all help to add to your value. This approach opens up new ways of doing things and encourages thoughtful and compassionate leadership.
It is crucial for the woman leaders to assess their comfort levels with colleagues and professionals so that they can easily blend into their corporate roles without affecting their personal lives.
Research indicates form strong networks and you will increase your sense of belonging, make life more meaningful and achieve greater satisfaction in addition to ensuring career success.
Manage your energy not time
Organizations are demanding and one of the coping mechanisms is to put in extra hours, this is one of the biggest challenges for aspiring women leaders. The work starts coming at the cost of family.
Tony Schwartz, author of The Power of Full Engagement, recommends that we manage our energy not our time by reducing frequent interruptions, taking frequent breaks, avoiding negative emotions which drain energy and living a healthy life style.
Actively practicing these leadership tips that can help ambitious women leaders reach the top echelons of organisations more often.
Jappreet Sethi
References:
Wall Street Journal
About.com
McKinsey