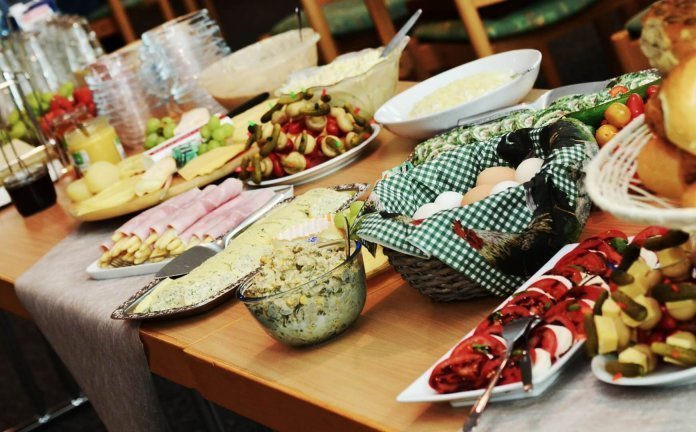 Lunch at office is something everyone looks forward to — not only in terms of nutrition but for foodies, it is much more than just filling the tummy. And in particular if your colleagues are like you, there's a good chance that workspace lunch turns into a mini-feast. And while you do enjoy the indulgence, getting back to your desk post it is a whole different story. You will feel sluggish, wish you hadn't eaten so much and promise yourself not to repeat this tomorrow — but the vicious cycle continues.
For some packing lunch from home is an option. However, even if you are eating at a cafe or office canteen, there's a whole lot of options to choose from so that you avoid the sluggishness:
Focus on grains/salads
For lunch at office, pick from a range of salads or grains to keep you energised without feeling lethargic. Grains are rich in proteins, and they take time to digest, which helps you feel fuller for a longer time. In the same way, salads contain vital nutrients that energise your body without making you feel very full. So it can be the simple dal that you get which you should fill your plates with. If taking from home, mix veggies and fruits with green sprouts/ kidney beans, etc. to make a delicious but easy salad. In this reference, the good old combination of Idly, Dosa, curd rice, etc. is a smarter pick.
Sandwiches/ wraps
Swap the greasy, fried burgers for sandwiches or wraps. Basically, it is a form of your traditional roti/ paratha with a twist. Breads, tortillas, etc. can be filled with choice of lean proteins like fish, chicken, etc. Drizzle your favourite sauces and add veggies to enjoy a filling yet healthy lunch. The combination of these nutrients helps boost iron content, which in turn helps you to stay energised.
Keep fast food at bay
For lunch at office, keep fast food away, especially french fries, burgers, pizzas, etc. Having an overdose of bad carbs is the top reason that you feel lethargic and sluggish post-lunch. This includes the long list of rich, ice-cream laden smoothies and aerated drinks that you probably crave for.
Stay hydrated
Staying hydrated is a vital aspect even during lunch hour at office. It helps you to stay fuller without feeling sleepy. But it doesn't mean that you have an overdose of tea/ coffee. Think of sensible alternatives like coconut water, buttermilk, etc.
Do get a dessert
Dessert doesn't mean a big slice of chocolate cake or brownie laden with ice-cream — though that's alright once in a while. Instead, think of a cottage cheese based sandesh, fruit with yogurt, a gelato instead of ice-cream, or even a couple of pieces of dark chocolate. These would satiate your sweet cravings, energise the system and yet not make you feel heavy.
Apart from these aspects, try to eat smaller meals and divide your portions sensibly. You should try to take a walk post-lunch so that your digestion process can be kickstarted. Sitting down right after lunch slows down digestion. Not having lunch is not really a sensible option. This would make you feel hungry later, and you will probably munch on unhealthy snacks. You could over-indulge once a week or so, but for most days — do avoid binging on lunch so that it doesn't hamper your productivity.
Jappreet Sethi